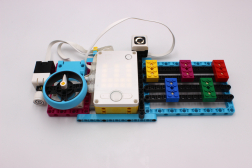 Description
Happy #STEMSTEAMDay! Join us by making a music maker in celebration! 

In the SPIKE App, you can code sound effects from the sound block library or musical instruments, notes, and tempo using the Music Extension. The Music Maker uses the color sensor to detect different colored bricks. Students can decide the sounds that are played based on the colors the sensor reads. 
There's a metronome to keep the beat. The tempo can be increased or decreased based on the turn of the wheel. Turn the metronome on or off with the force sensor. 
A music maker can take any form. Get inspired and go make some music! 
What learning environment is this best formatted for?
Classroom
Time Commitment
2 - 3 hours
Is this part of a unit or a stand alone activity?
Stand Alone (One Lesson)
LEGO Education Teacher Familiarity/Level
Beginner
Subject
Art & Music, Engineering, Other
Products Used
SPIKE™ Prime
Attachment #1
SPIKE Prime Music Maker Activity Brief
Make some music with SPIKE Prime
947 KB
Display in Lesson Plans
Yes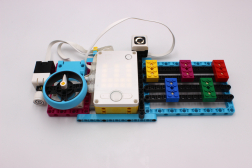 Submitted by:
Kate and Kyle
Date Last Modified:
Feb 15, 2021